HotHardware has recently revised their list of best Ethereum mining GPUs (Graphics Processing Units). The Radeon Vega 56 and Vega 64 video cards from Advanced Micro Devices (AMD) are now the top-rated GPUs for mining Ether. This is based on hash-rate using NiceHashMiner. Radeon Vega GPUs are scarce right now. Ether miners probably bought most of them.
The GPU-only Ether cryptocurrency still trades above $300. This is in spite of China and other countries banning Initial Coin Offerings [ICO]. Government people are probably worried that cryptocurrency will reduce their control over people's wealth. Unless they criminalize it, governments cannot stop people from mining/trading crypto money. Meanwhile, AMD can continue to benefit from this cryptocurrency mining industry.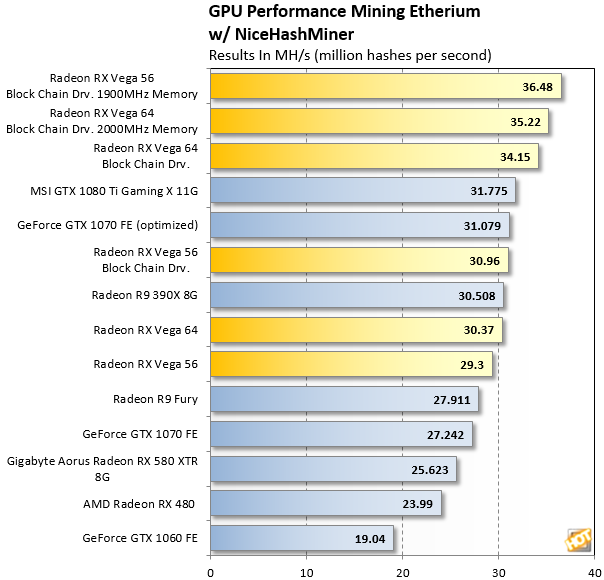 (Source: HotHardware)
AMD's Radeon GPU business, therefore, still has a strong tailwind from the $150 billion global industry of cryptocurrency mining. I previously explained that AMD gained market share in discrete GPUs in Q2 because of cryptocurrency miners. Jon Peddie Research hasn't released its GPU shipments data for Q3. However, my fearless forecast now is that AMD again gained market share in Q3. It might also happen this Q4. Nvidia (NVDA) has not yet released Volta-based consumer GPUs that can counter Radeon Vega products.
The cryptocurrency business is now too lucrative. Government-mandated edicts cannot control a rising, online tidal wave like cryptocurrency mining/trading. As more people realize that cryptocurrencies are easy to hide from the tax man, the tidal wave will only surge higher and faster. Five years ago, nobody ever predicted that total cryptocurrencies will be valued at over $150 billion.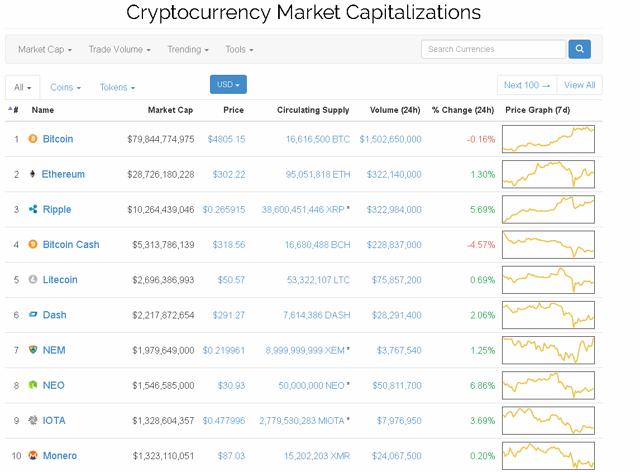 (Source: coinmarketcap.com)
My fearless forecast is that five years from now, the $150 billion cryptocurrency industry might grow to $400 billion. Sad but true, there will be other cryptocurrencies that will be invented/manipulated/promoted to replace Bitcoin and Ether. It will be to the long-term benefit of AMD if it can covertly support the growth of GPU-only cryptocurrencies after mining Ether gets too hard.
Cloud Mining Services Can Go Mainstream
I look forward to AMD eventually supplying its EPYC servers processors and Vega/Navi datacenter GPU accelerators to crypto money trading operators like Coinbase. My fearless forecast is that there will be more operators of Cryptocurrency-mining-as-a-Service [CMaaS]. Opportunistic capitalists in countries (like China/Russia) where there are cheap electricity rates and/or abundant sunshine and wind, will operate CMaaS cloud platforms.
Genesis Mining is currently the largest CMaaS operator. Once Microsoft (MSFT) Azure starts offering CMaaS to compete with Genesis Mining, other top cloud computing firms will probably follow. If you don't have space and/or the patience to build/maintain mining rigs and solar/wind energy systems, you can just buy a two-year crypto mining contract for Ether.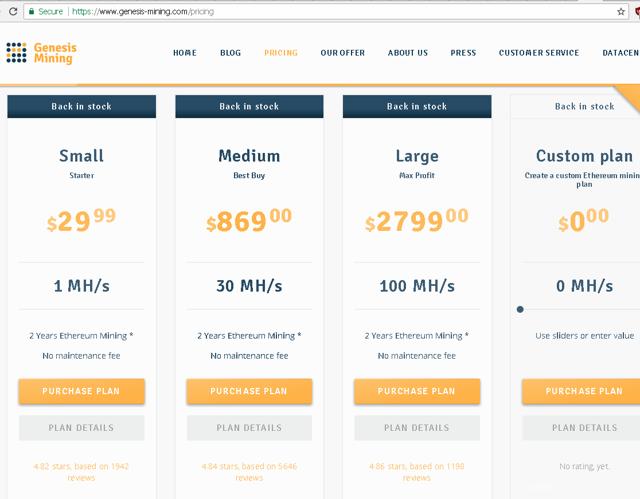 (Source: CryptoCompare.com)
Cheap Renewable Energy Makes Cryptocurrency Mining Profitable
The quarterly Radeon GPU sales of AMD still have a solid tailwind from cryptocurrency mining. Cryptocurrency-friendly video cards will enjoy persistent strong demand. The price of Ether (which can only be mined using GPUs) is still above $300. This is in spite of recent events wherein some governments made Initial Coin Offering [ICO] illegal. The $150 billion global cryptocurrency industry is already too big and too lucrative. Any politically-mandated edicts are merely temporary setbacks.
It is more important to note that cheap renewable energy makes cryptocurrency mining a worthy industry for individuals and large corporations. The first generation of Vega GPUs are indeed more power hungry than Polaris-era Radeon GPUs. However, solar panels are so cheap now that using Vega GPUs to mine Ether is still viable. I can buy and install a 1.2-Kilowatt solar power system with a 500AH deep cycle battery for $900. The retail price of a 100-Watt monocrystalline solar panel in my country is now only $60. You can get a huge discount if you buy them by the dozen.
There are still no available Radeon Vega GPUs or Radeon RX 480 video cards here in my province. However, there's a glut of Radeon RX 470 mining GPUs. I can build a six-GPU Radeon RX 470 Ether mining rig for $1,800. Optimization can help the RX 470 achieve 22 MH/s. Based on the profitability calculator below, a six-Radeon RX 470 GPU-rig can still be profitable even using regular electricity at $0.10 per KW/h.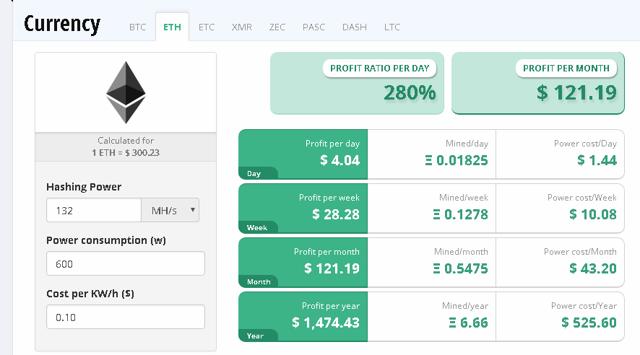 (Source: Cryptocurrency.com)
As per the Ether miners I talked to, a 1,200-Watt solar power roof system can complement an Ether-mining rig of six Radeon RX 470 or GTX 1060 GPUs. The trick is to use a 32GB USB-installed EthOS and Intel Celeron J-series CPUs. We live in Northern Philippines so are very near the equatorial line. We get 300 days/year of intense solar power.
You can use grid power during the night and cut your cost per KW/h to $0.05 during the day. Electricity cost is the biggest overhead in operating a cryptocurrency mining operation. Cryptocurrency mining, therefore, is only going to get bigger as monocrystalline solar panels become more affordable.
If you live in a windy place, you can also buy and install a $500 1.5-Kilowatt wind turbine to increase the free electricity available for a six-GPU mining rig. My point is that it is possible for people to have a long-term income from cryptocurrency mining if they are willing to shell out the cash to build a solar/wind power system.
The same principle applies to cloud mining operators and large-scale miners. Instead of spending $3,500 to buy more AMD shares, you can just mine Ether and have some money that cannot be taxed. You are still helping AMD's stock performance by buying Radeon GPUs/CPU for mining rigs.
Conclusion
Cheap renewable energy makes cryptocurrency mining a long-term industry. Consequently, AMD's GPU sales are assured of a long-term tailwind from cryptocurrency mining. AMD is no longer breaking down exact revenue/margins from its Radeon GPU business. However, it is clear that crypto money miners are boosting video card sales.
Lastly, AMD and its foundry partner urgently need to produce more RX 480/470 and Vega 56/64 GPUs. The Christmas/Black Friday shopping frenzy is coming soon. PC gamers will likely spend some of their 13th-month pay and Christmas bonuses on new Vega GPUs.
AMD is a buy.
Disclosure: I am/we are long AMD, NVDA, MSFT.
I wrote this article myself, and it expresses my own opinions. I am not receiving compensation for it (other than from Seeking Alpha). I have no business relationship with any company whose stock is mentioned in this article.
Ad:


Source by [author_name]